We'll demonstrate visualization techniques in Seurat using our previously computed Seurat object from the 2,700 PBMC tutorial. You can download this dataset from SeuratData
## An object of class Seurat 




## 13714 features across 2638 samples within 1 assay 




## Active assay: RNA (13714 features, 2000 variable features)




##  2 dimensional reductions calculated: pca, umap
Updated and expanded visualization functions
In addition to changes to FeaturePlot(), several other plotting functions have been updated and expanded with new features and taking over the role of now-deprecated functions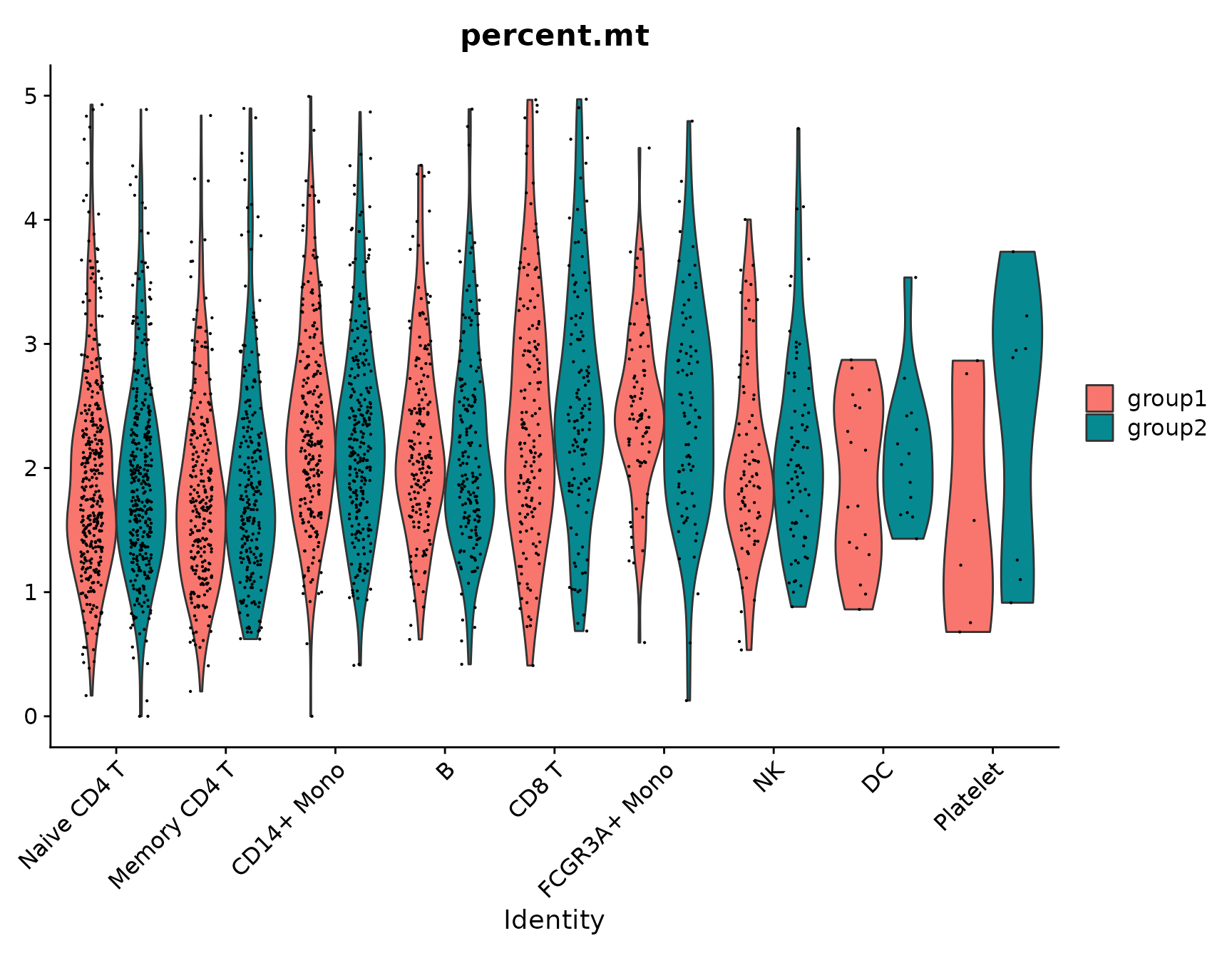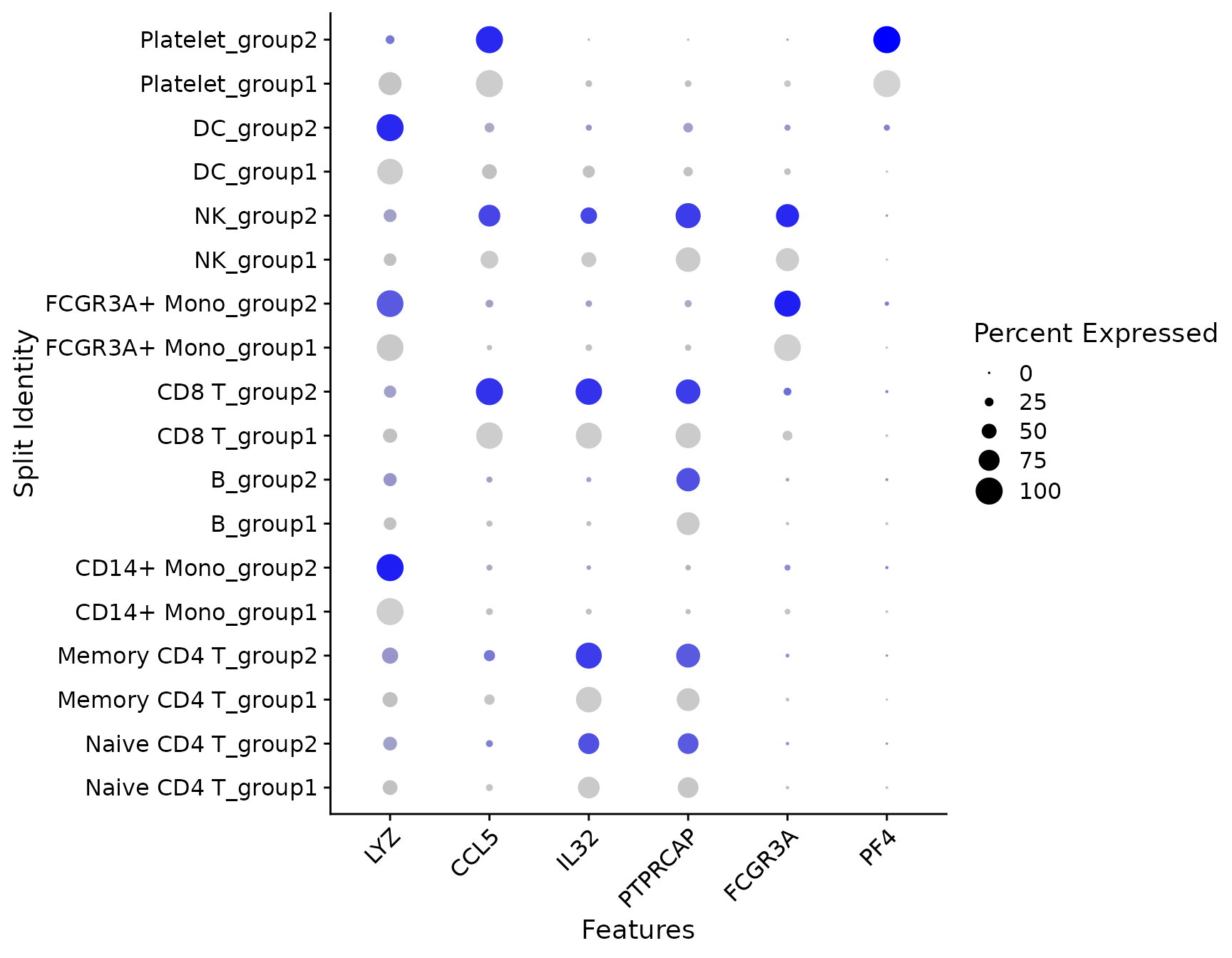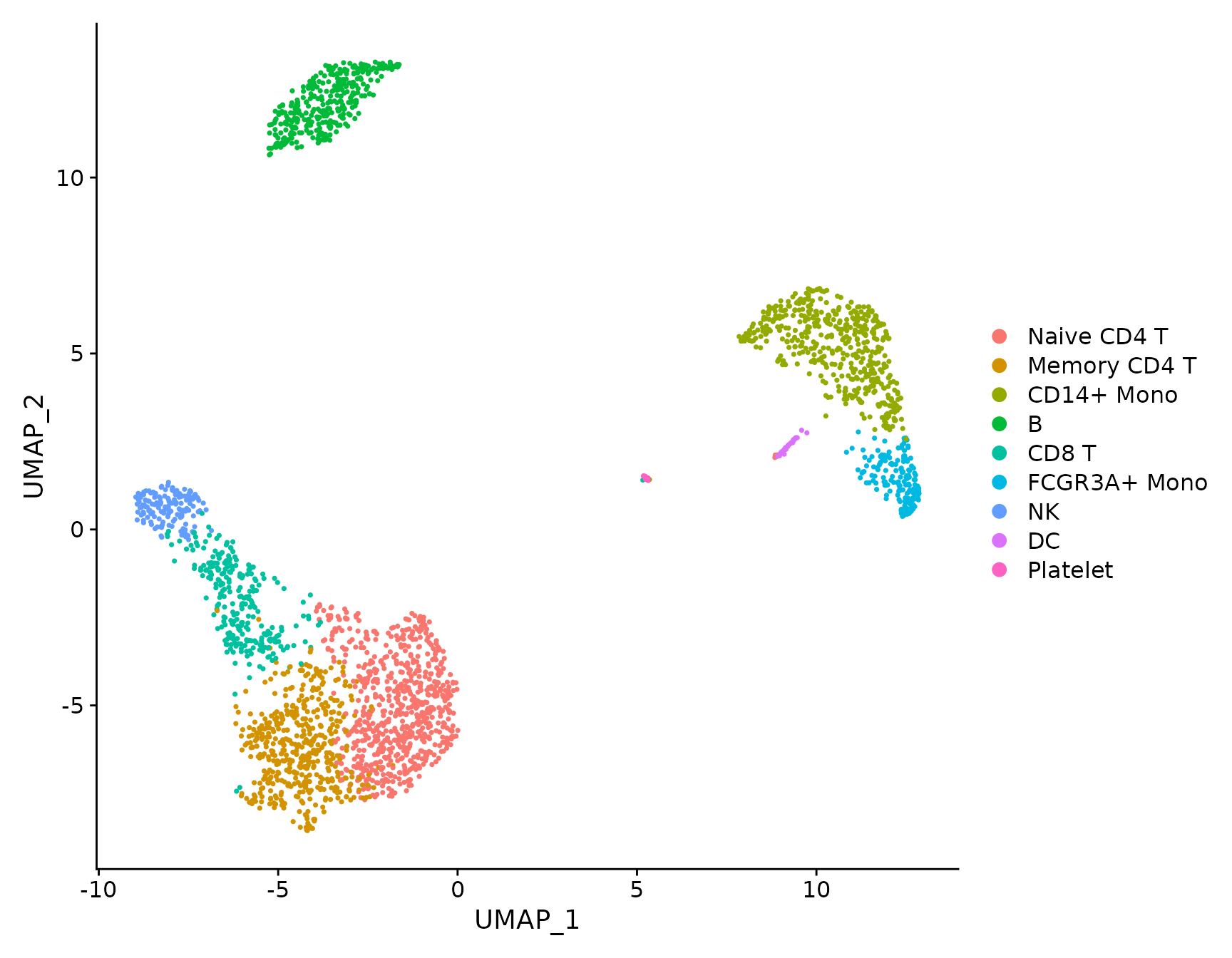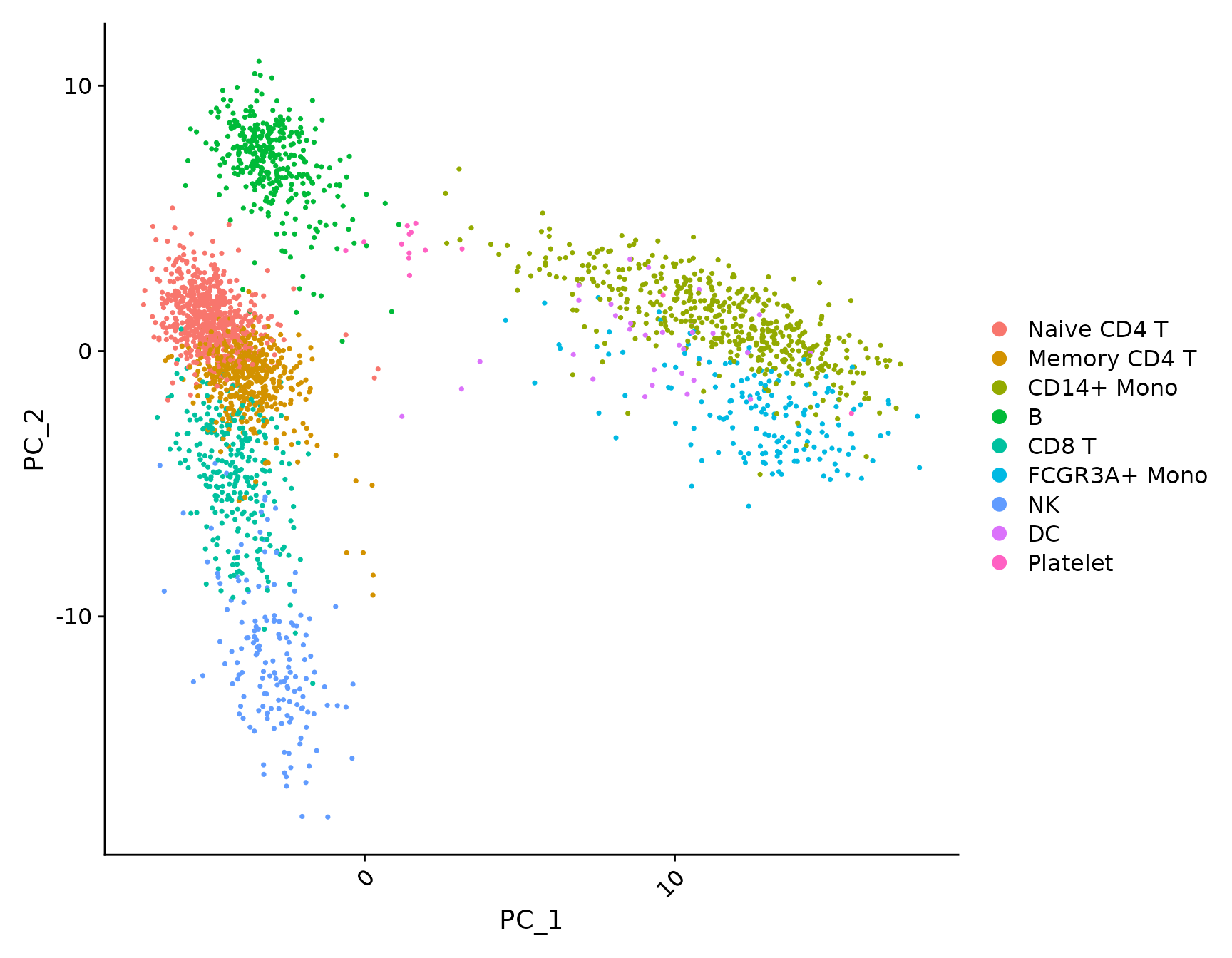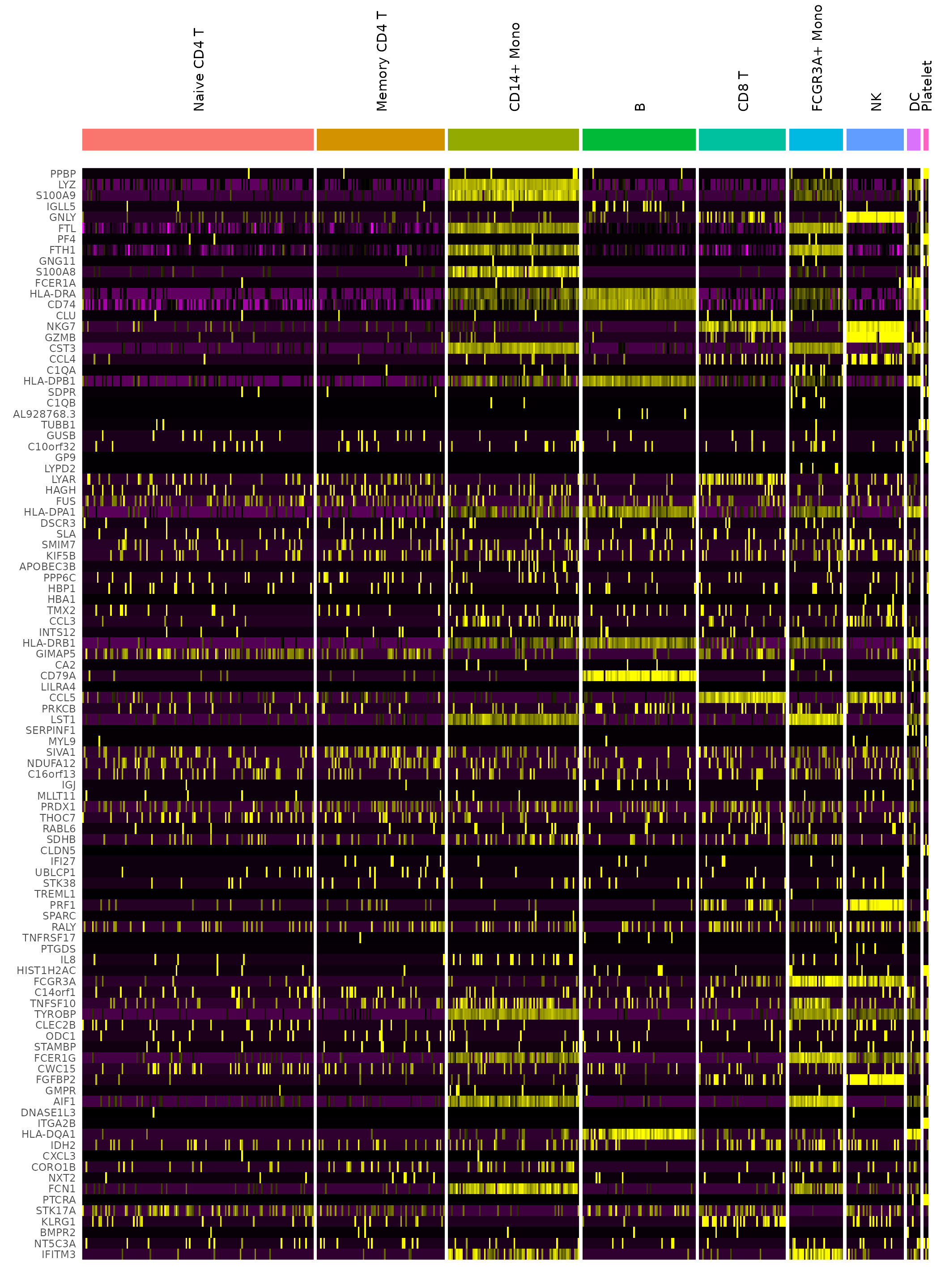 Applying themes to plots
With Seurat, all plotting functions return ggplot2-based plots by default, allowing one to easily capture and manipulate plots just like any other ggplot2-based plot.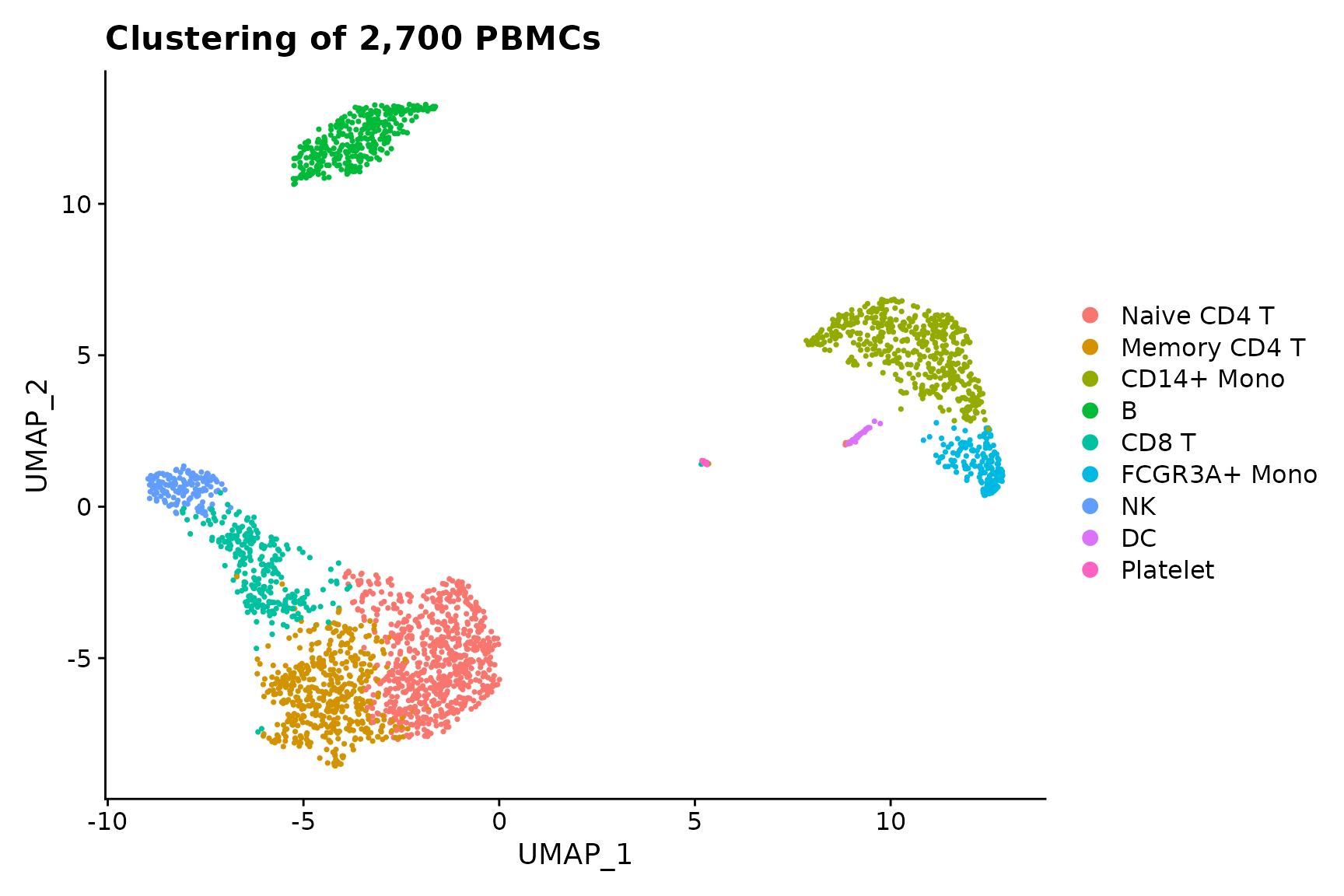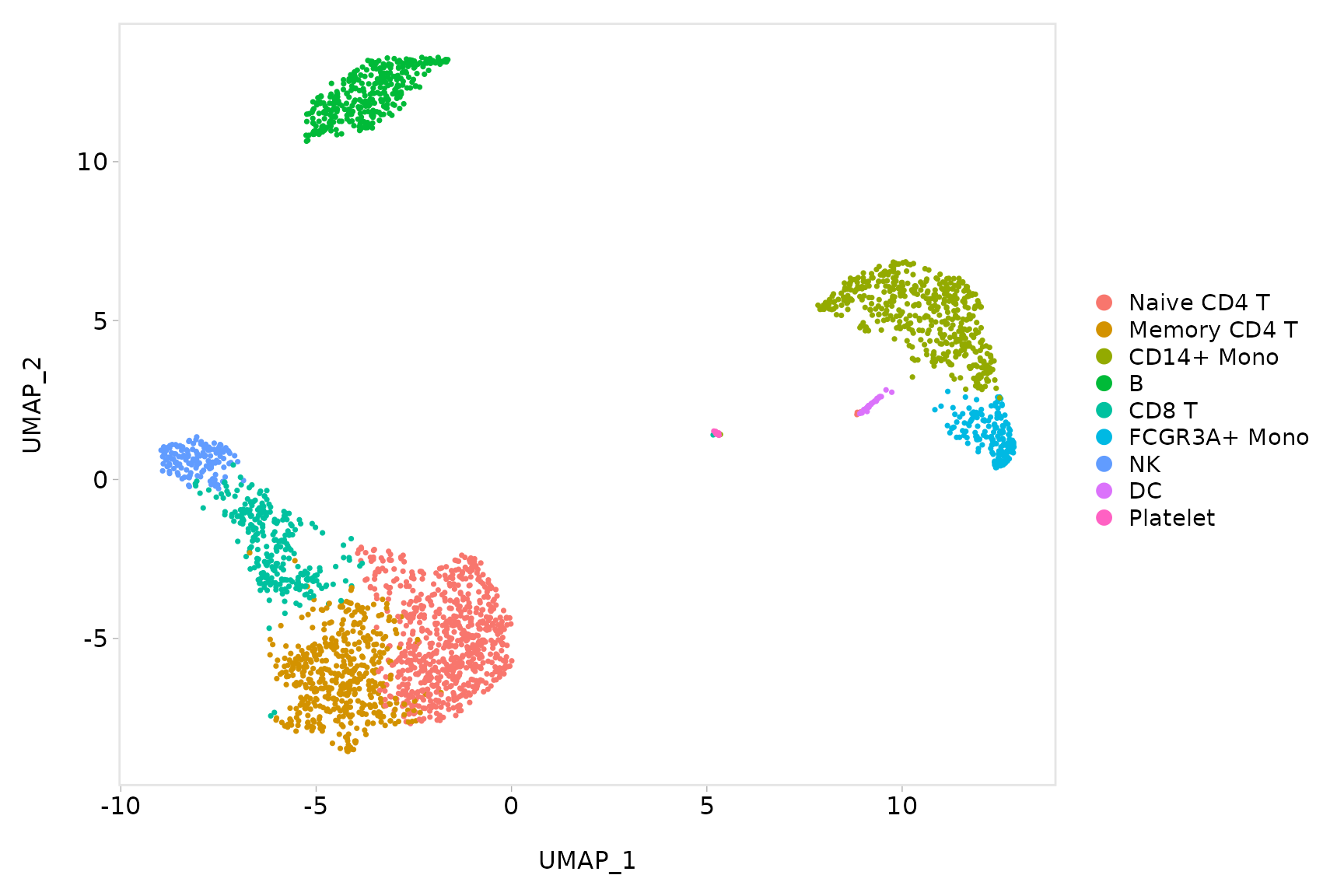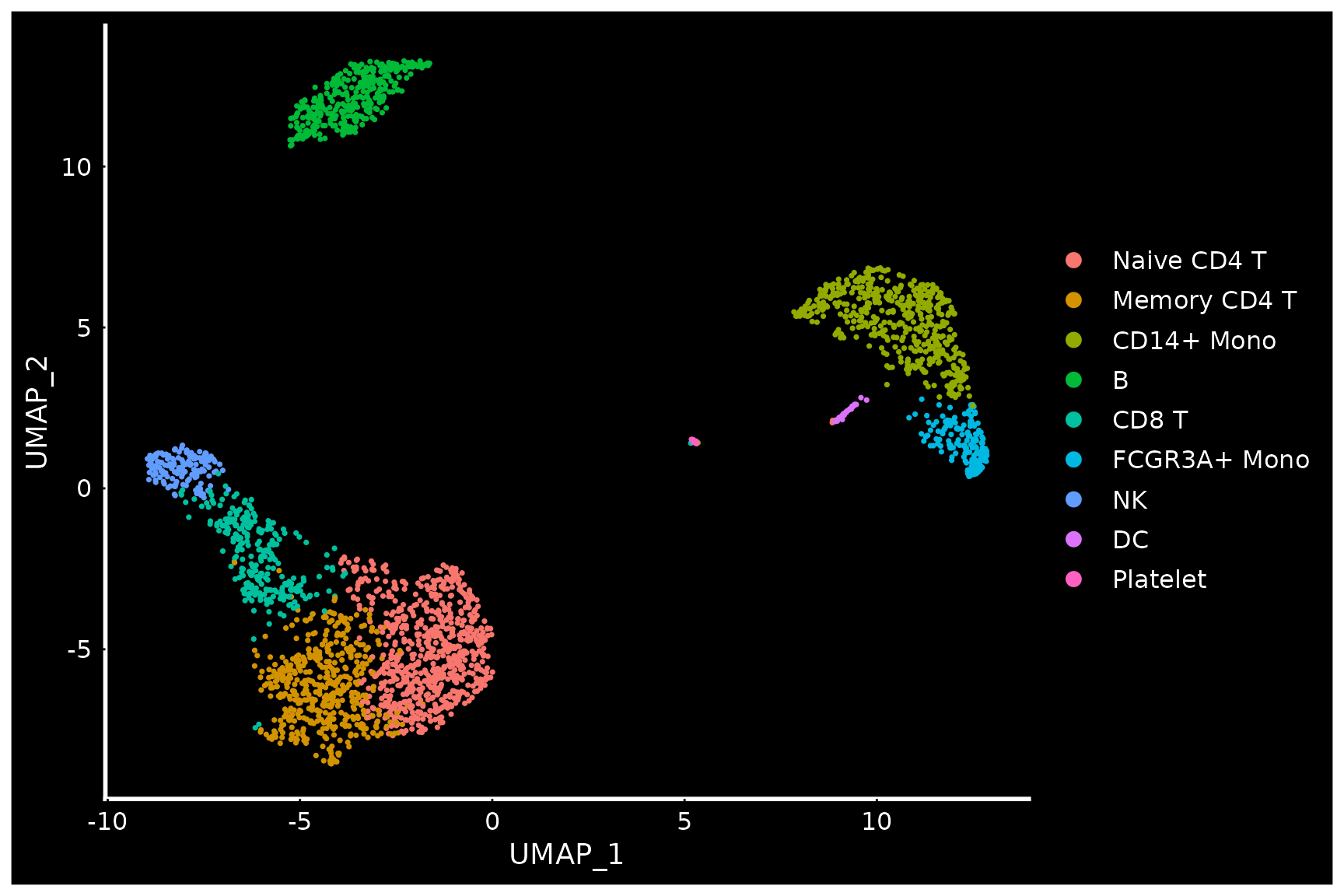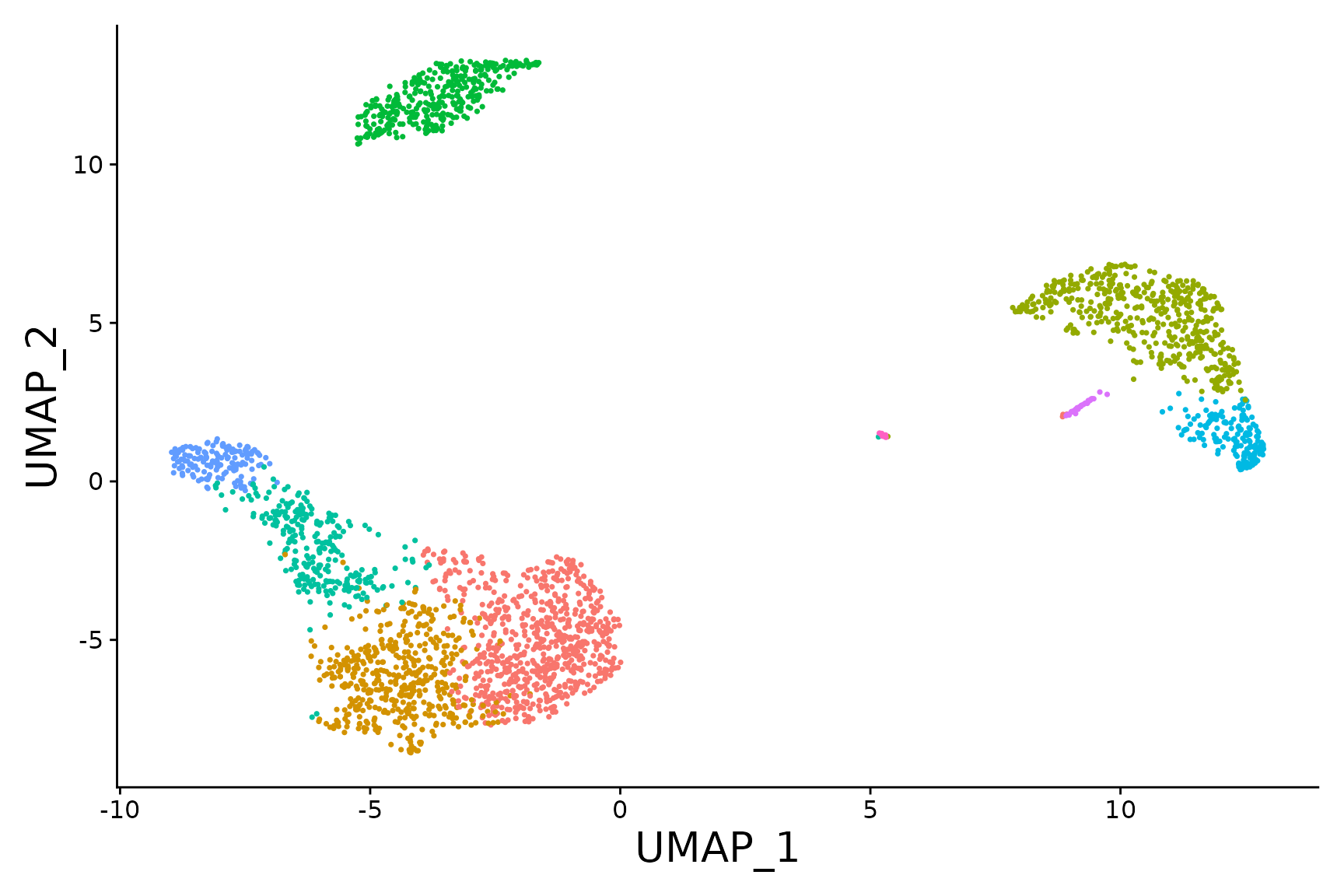 Interactive plotting features
Seurat utilizes R's plotly graphing library to create interactive plots. This interactive plotting feature works with any ggplot2-based scatter plots (requires a geom_point layer). To use, simply make a ggplot2-based scatter plot (such as DimPlot() or FeaturePlot()) and pass the resulting plot to HoverLocator()
Another interactive feature provided by Seurat is being able to manually select cells for further investigation. We have found this particularly useful for small clusters that do not always separate using unbiased clustering, but which look tantalizingly distinct. You can now select these cells by creating a ggplot2-based scatter plot (such as with DimPlot() or FeaturePlot(), and passing the returned plot to CellSelector(). CellSelector() will return a vector with the names of the points selected, so that you can then set them to a new identity class and perform differential expression.
For example, lets pretend that DCs had merged with monocytes in the clustering, but we wanted to see what was unique about them based on their position in the tSNE plot.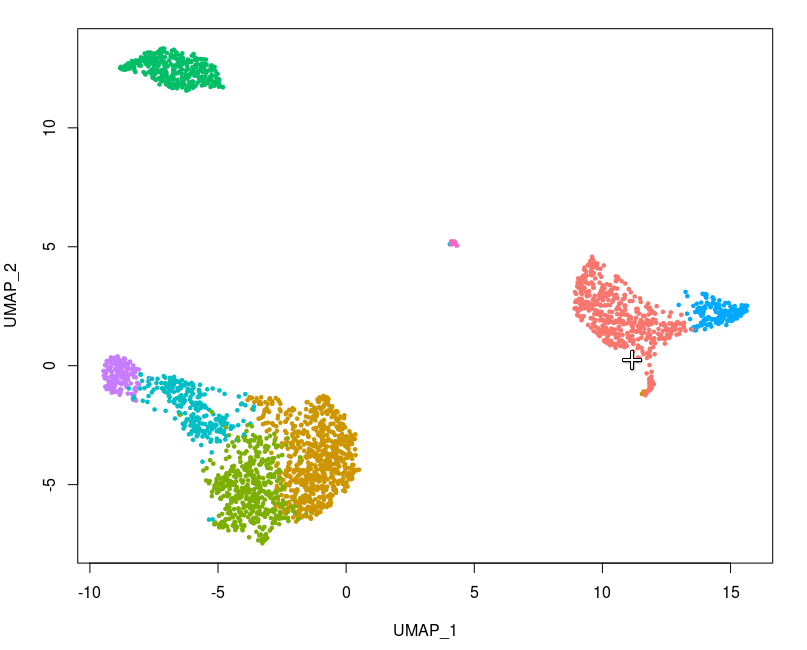 We can then change the identity of these cells to turn them into their own mini-cluster.
## [1] "AAGATTACCGCCTT" "AAGCCATGAACTGC" "AATTACGAATTCCT" "ACCCGTTGCTTCTA"




## [5] "ACGAGGGACAGGAG" "ACGTGATGCCATGA"
##                 p_val avg_log2FC pct.1 pct.2    p_val_adj




## FCER1A   3.239004e-69  3.7008561 0.800 0.017 4.441970e-65




## SERPINF1 7.761413e-36  1.5737896 0.457 0.013 1.064400e-31




## HLA-DQB2 1.721094e-34  0.9685974 0.429 0.010 2.360309e-30




## CD1C     2.304106e-33  1.7785158 0.514 0.025 3.159851e-29




## ENHO     5.099765e-32  1.3734708 0.400 0.010 6.993818e-28




## ITM2C    4.299994e-29  1.5590007 0.371 0.010 5.897012e-25
Using CellSelector to Automatically Assign Cell Identities

In addition to returning a vector of cell names, CellSelector() can also take the selected cells and assign a new identity to them, returning a Seurat object with the identity classes already set. This is done by passing the Seurat object used to make the plot into CellSelector(), as well as an identity class. As an example, we're going to select the same set of cells as before, and set their identity class to "selected"




pbmc3k.final

 

<-

 CellSelector

(

plot 

=

 

plot

, object 

=

 

pbmc3k.final

, ident 

=

 

"selected"

)

## [1] "selected"     "Naive CD4 T"  "Memory CD4 T" "CD14+ Mono"   "B"           




## [6] "CD8 T"        "FCGR3A+ Mono" "NK"           "Platelet"
Plotting Accessories
Along with new functions add interactive functionality to plots, Seurat provides new accessory functions for manipulating and combining plots.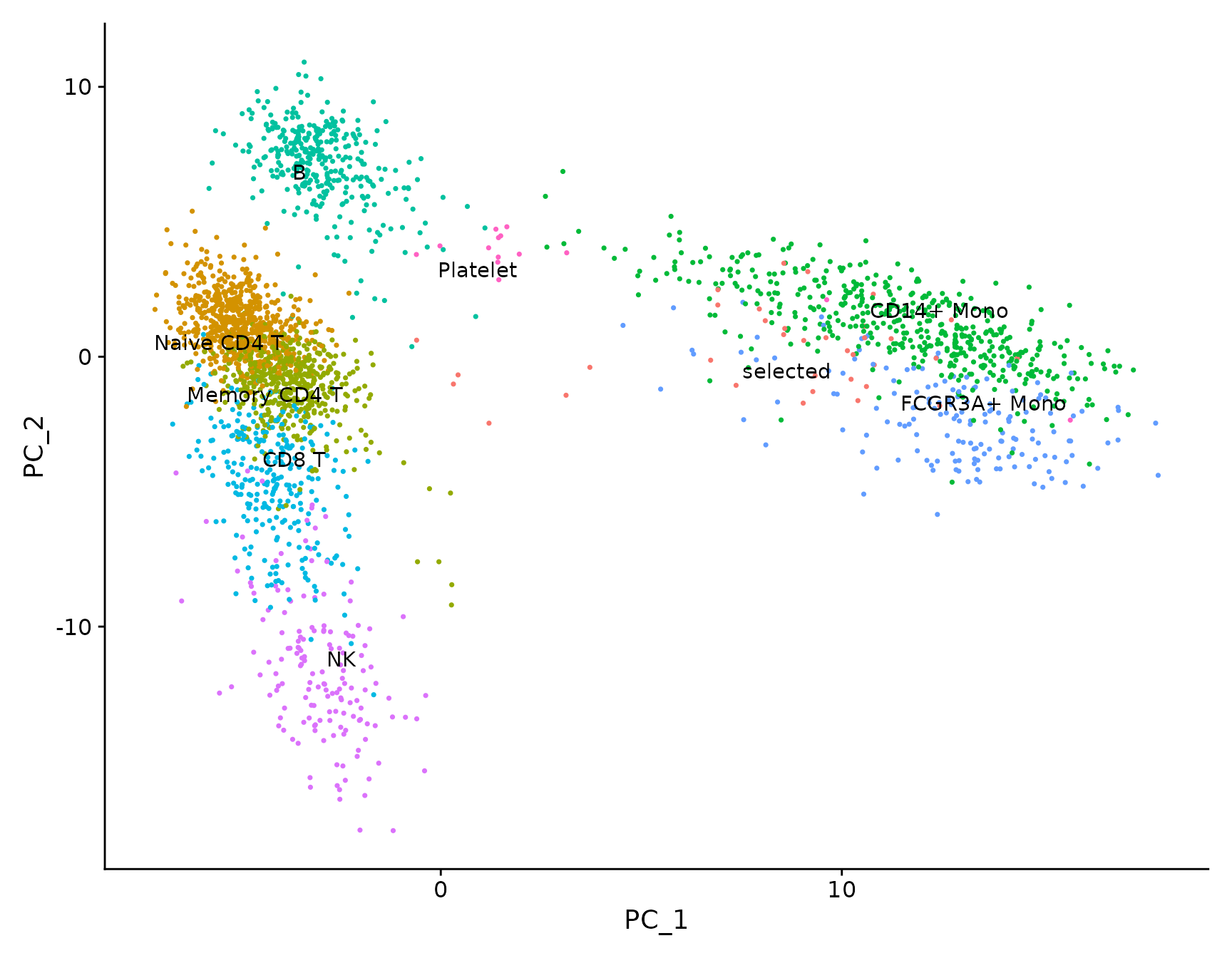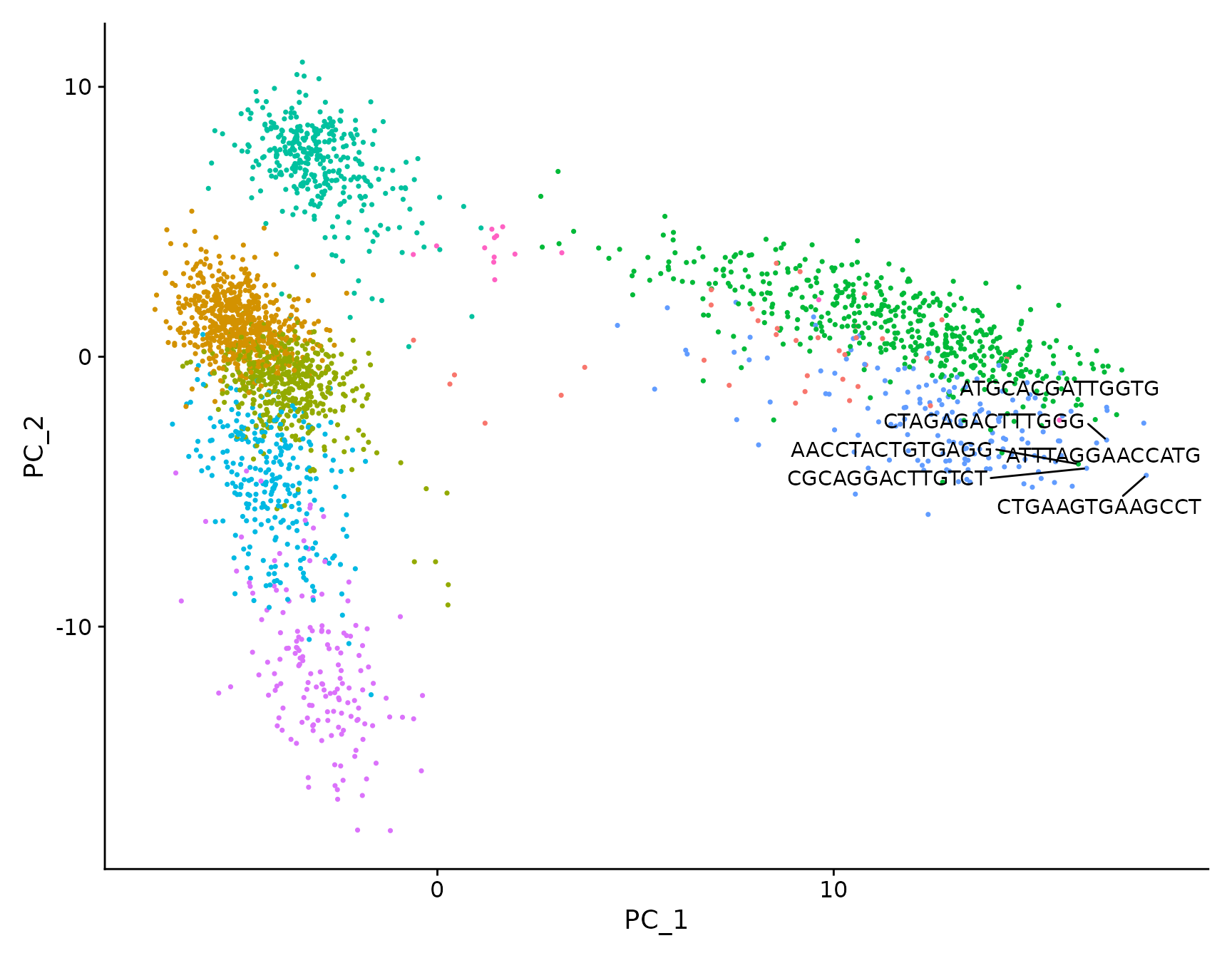 Plotting multiple plots was previously achieved with the CombinePlot() function. We are deprecating this functionality in favor of the patchwork system. Below is a brief demonstration but please see the patchwork package website here for more details and examples.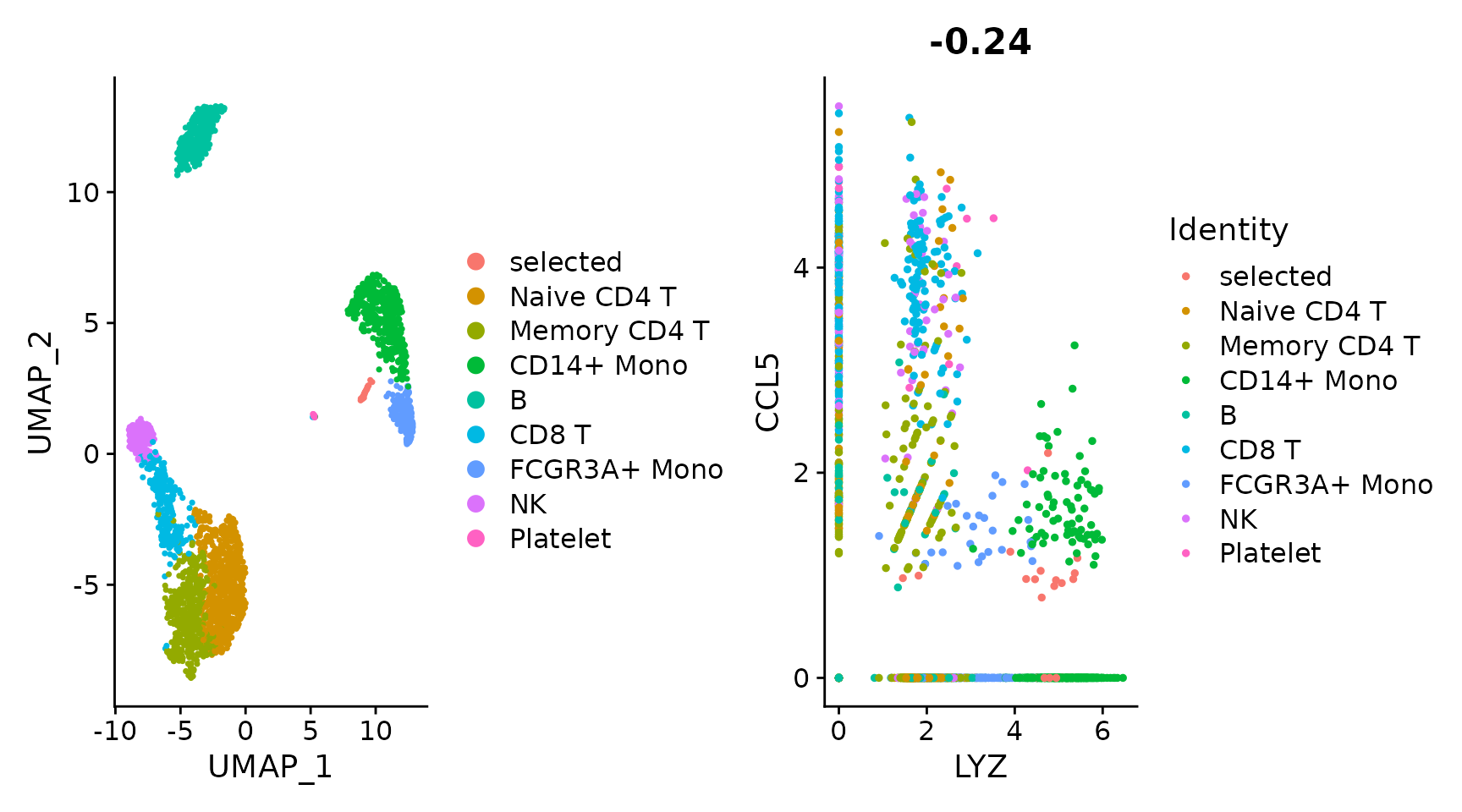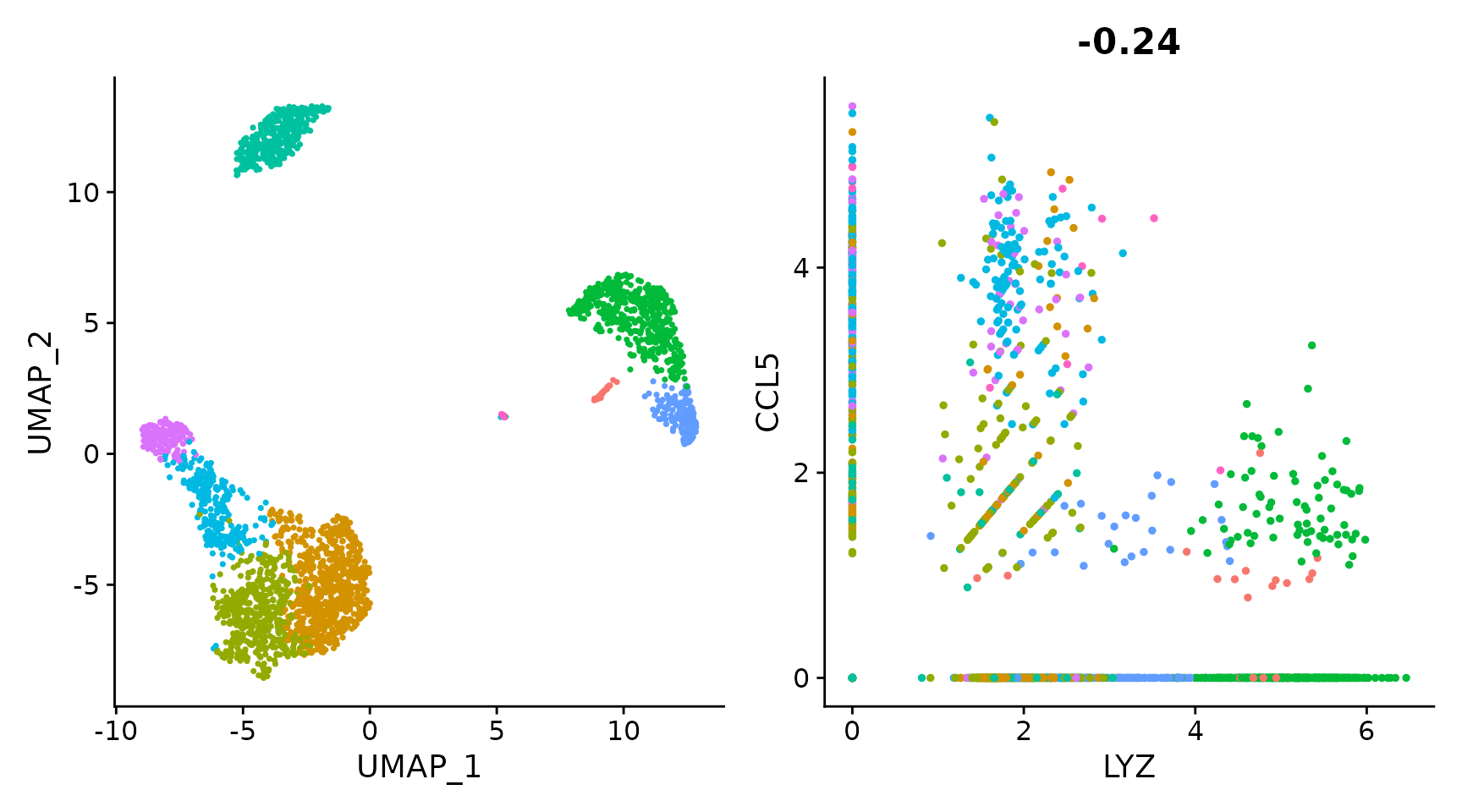 Session Info

## R version 4.2.0 (2022-04-22)
## Platform: x86_64-pc-linux-gnu (64-bit)
## Running under: Ubuntu 20.04.5 LTS
## 
## Matrix products: default
## BLAS:   /usr/lib/x86_64-linux-gnu/openblas-pthread/libblas.so.3
## LAPACK: /usr/lib/x86_64-linux-gnu/openblas-pthread/liblapack.so.3
## 
## locale:
##  [1] LC_CTYPE=en_US.UTF-8       LC_NUMERIC=C              
##  [3] LC_TIME=en_US.UTF-8        LC_COLLATE=en_US.UTF-8    
##  [5] LC_MONETARY=en_US.UTF-8    LC_MESSAGES=en_US.UTF-8   
##  [7] LC_PAPER=en_US.UTF-8       LC_NAME=C                 
##  [9] LC_ADDRESS=C               LC_TELEPHONE=C            
## [11] LC_MEASUREMENT=en_US.UTF-8 LC_IDENTIFICATION=C       
## 
## attached base packages:
## [1] stats     graphics  grDevices utils     datasets  methods   base     
## 
## other attached packages:
##  [1] patchwork_1.1.2               ggplot2_3.4.1                
##  [3] thp1.eccite.SeuratData_3.1.5  stxBrain.SeuratData_0.1.1    
##  [5] ssHippo.SeuratData_3.1.4      pbmcsca.SeuratData_3.0.0     
##  [7] pbmcMultiome.SeuratData_0.1.2 pbmc3k.SeuratData_3.1.4      
##  [9] panc8.SeuratData_3.0.2        ifnb.SeuratData_3.1.0        
## [11] hcabm40k.SeuratData_3.0.0     bmcite.SeuratData_0.3.0      
## [13] SeuratData_0.2.2              SeuratObject_4.1.3           
## [15] Seurat_4.2.1.9001            
## 
## loaded via a namespace (and not attached):
##   [1] systemfonts_1.0.4      plyr_1.8.8             igraph_1.4.1          
##   [4] lazyeval_0.2.2         sp_1.6-0               splines_4.2.0         
##   [7] crosstalk_1.2.0        listenv_0.9.0          scattermore_0.8       
##  [10] digest_0.6.31          htmltools_0.5.5        fansi_1.0.4           
##  [13] magrittr_2.0.3         memoise_2.0.1          tensor_1.5            
##  [16] cluster_2.1.3          ROCR_1.0-11            limma_3.54.1          
##  [19] globals_0.16.2         matrixStats_0.63.0     pkgdown_2.0.7         
##  [22] spatstat.sparse_3.0-1  colorspace_2.1-0       rappdirs_0.3.3        
##  [25] ggrepel_0.9.3          textshaping_0.3.6      xfun_0.38             
##  [28] dplyr_1.1.1            crayon_1.5.2           jsonlite_1.8.4        
##  [31] progressr_0.13.0       spatstat.data_3.0-1    survival_3.3-1        
##  [34] zoo_1.8-11             glue_1.6.2             polyclip_1.10-4       
##  [37] gtable_0.3.3           leiden_0.4.3           future.apply_1.10.0   
##  [40] abind_1.4-5            scales_1.2.1           spatstat.random_3.1-4 
##  [43] miniUI_0.1.1.1         Rcpp_1.0.10            viridisLite_0.4.1     
##  [46] xtable_1.8-4           reticulate_1.28        ggmin_0.0.0.9000      
##  [49] htmlwidgets_1.6.2      httr_1.4.5             RColorBrewer_1.1-3    
##  [52] ellipsis_0.3.2         ica_1.0-3              farver_2.1.1          
##  [55] pkgconfig_2.0.3        sass_0.4.5             uwot_0.1.14           
##  [58] deldir_1.0-6           utf8_1.2.3             tidyselect_1.2.0      
##  [61] labeling_0.4.2         rlang_1.1.0            reshape2_1.4.4        
##  [64] later_1.3.0            munsell_0.5.0          tools_4.2.0           
##  [67] cachem_1.0.7           cli_3.6.1              generics_0.1.3        
##  [70] ggridges_0.5.4         evaluate_0.20          stringr_1.5.0         
##  [73] fastmap_1.1.1          yaml_2.3.7             ragg_1.2.5            
##  [76] goftest_1.2-3          knitr_1.42             fs_1.6.1              
##  [79] fitdistrplus_1.1-8     purrr_1.0.1            RANN_2.6.1            
##  [82] pbapply_1.7-0          future_1.32.0          nlme_3.1-157          
##  [85] mime_0.12              formatR_1.14           compiler_4.2.0        
##  [88] plotly_4.10.1          png_0.1-8              spatstat.utils_3.0-2  
##  [91] tibble_3.2.1           bslib_0.4.2            stringi_1.7.12        
##  [94] highr_0.10             desc_1.4.2             lattice_0.20-45       
##  [97] Matrix_1.5-3           vctrs_0.6.1            pillar_1.9.0          
## [100] lifecycle_1.0.3        spatstat.geom_3.1-0    lmtest_0.9-40         
## [103] jquerylib_0.1.4        RcppAnnoy_0.0.20       data.table_1.14.8     
## [106] cowplot_1.1.1          irlba_2.3.5.1          httpuv_1.6.9          
## [109] R6_2.5.1               promises_1.2.0.1       KernSmooth_2.23-20    
## [112] gridExtra_2.3          parallelly_1.35.0      codetools_0.2-18      
## [115] MASS_7.3-56            rprojroot_2.0.3        withr_2.5.0           
## [118] sctransform_0.3.5      parallel_4.2.0         grid_4.2.0            
## [121] tidyr_1.3.0            rmarkdown_2.21         Rtsne_0.16            
## [124] spatstat.explore_3.1-0 shiny_1.7.4